Obituary
善勝仁心厚
風義兼師友
劉勝義神父息勞歸主悼辭
香港大學利瑪竇宿舍前舍監耶穌會劉勝義神父(Reverend Father John C. Russell, S.J.)於2023年9月22日於聖保祿醫院息勞歸主,享耆壽97歲。本舍宿生與校友均感哀痛,並對劉神父家人致以深切慰問。
劉神父生於1926年8月24日生於愛爾蘭都柏林,自幼立志成為耶穌會士侍奉天主。劉神父1957年晉鐸,在1962年畢業為羅馬額我略大學教會法律博士,是天主教香港教區內少數教會法律專家,曾任教區法庭前任首席大法官,也是善終服務組織善寧會創辦人之一,並曾任「公教婚姻輔導會」顧問等。
劉神父於1978-1990年擔任香港大學利瑪竇宿舍舍監,神父言傳身教,循循善誘,春風化雨,育才無數。神父更熱心弘揚天主教教育理念,從事各種社會服務,在教育和社會服務等不同方面辛勤耕耘,貢獻傑出。
劉神父行為世範,學貫中西,為天主和本港奉獻一生,風儀行止令人嗟嘆欽羡,宿友自宜見其賢而思以齊焉。
- 2023.09.22 - Fr Tsui Lap Yan
Matteo Ricci- Student Concert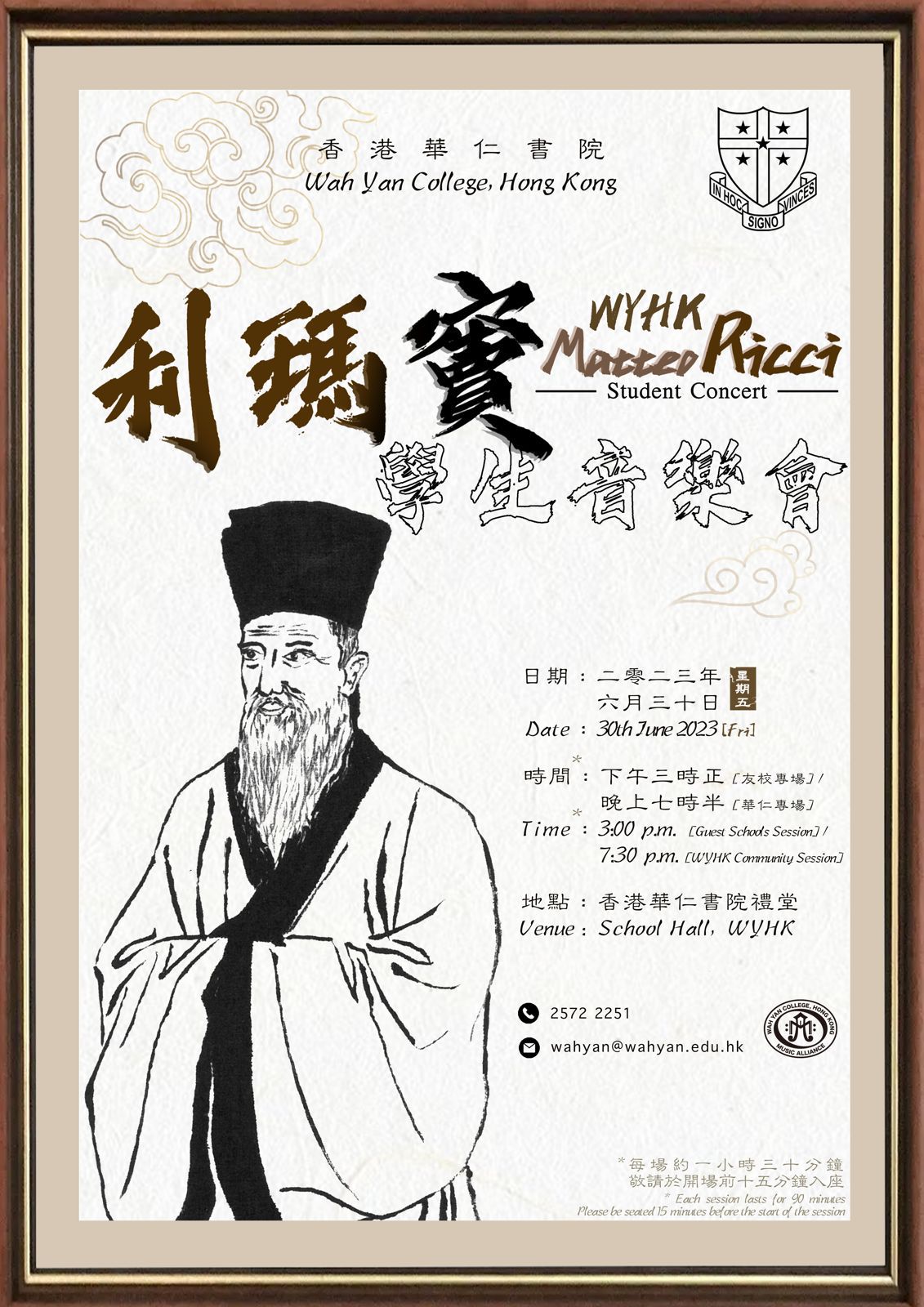 Experience the inspiring musical, Matteo Ricci- Student Concert, on June 30, 2023, at 7:30 pm at the school hall. Join us for this unforgettable performance, which tells the story of Matteo Ricci, a Jesuit missionary who mastered Chinese culture. Featuring over 100 students and teachers of Wah Yan College, Hong Kong, this concert is a collaborative effort showcasing the talents of our school's community. Wahyanites, don't hesitate to get your tickets now at https://bit.ly/455OB7G. See you there!
由香港華仁書院超過一百位師生合力製作的利瑪竇-學生音樂會,將於二〇二三年六月三十日晚上七時半於學校禮堂演出。故事講述利瑪竇由意大利到大明前後廿八年的事, 利瑪竇為了爭取漢人的信任,披荊斬棘,傳揚福音。此音樂會是華仁各人共同協作的成果,實有賴大家的支持!若您對這音樂會感興趣,可經以下鏈結預訂門票:https://bit.ly/455OB7G.。到時見!
- 2023.05.30 - Webmaster Team
Archery Experience Day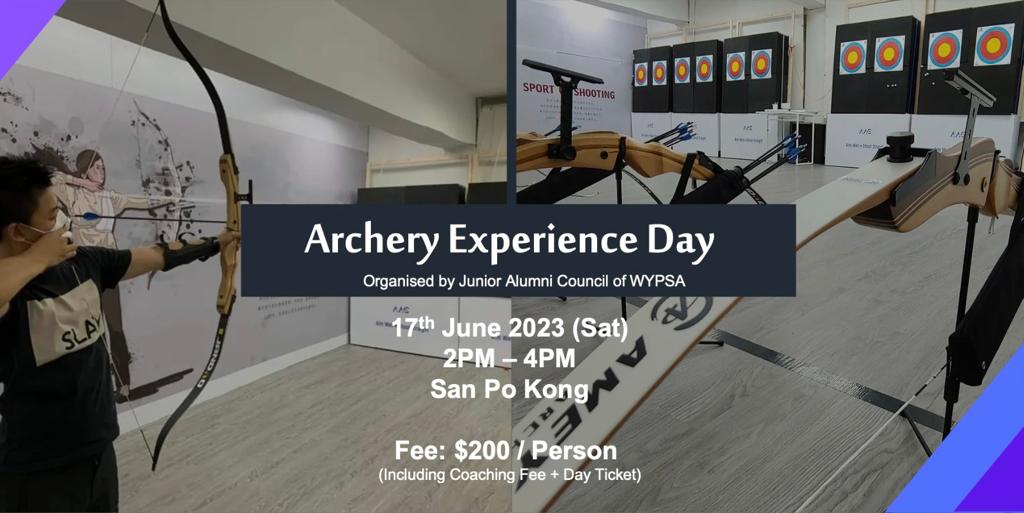 Ready to Experience Something New ? With bows and arrows for all shapes and sizes, our Archery experiences give you the chance to learn new skills, feeling the satisfaction of going for gold.
To sign up, please contact Jason Tong at 9714 2430 (whatsapp). Join us on 17th June
- 2023.05.30 - Nelson Ng '00 (Chairman)
Notice of Annual General Meeting 2023
The 54th Annual General Meeting (AGM) of the Wah Yan (Hong Kong) Past Students Association will be held on 26 June 2023 (Monday) with the following details: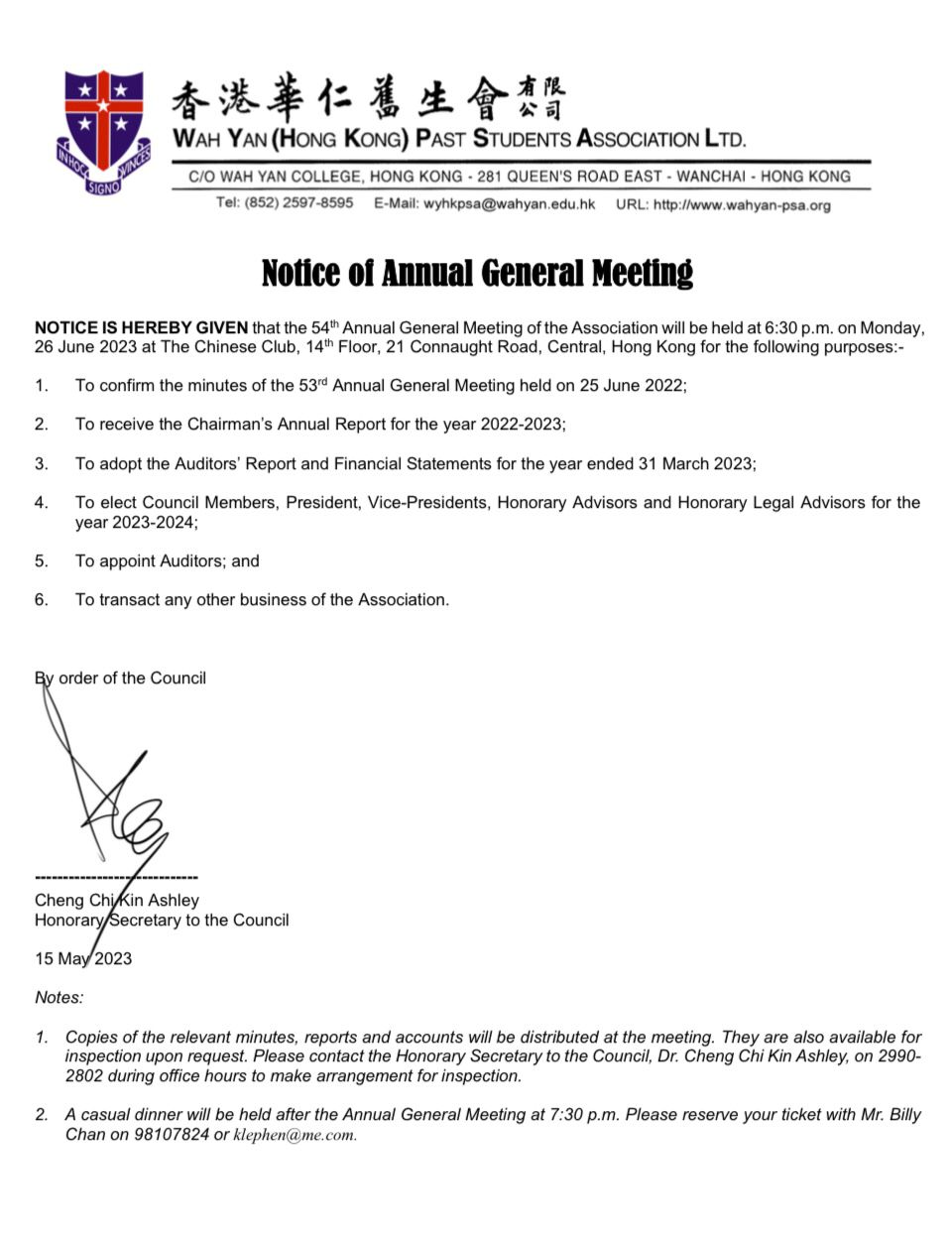 A casual dinner will be arranged at 7:30 p.m. after the AGM (please RSVP to Mr. Billy Chan at 9810 7824 or This email address is being protected from spambots. You need JavaScript enabled to view it.)
We look forward to seeing you there!
- 2023.05.18 - Cheng Chi Kin Ashley '80 (Honorary Secretary)