Notice of Annual General Meeting 2020
NOTICE IS HEREBY GIVEN that the 52nd Annual General Meeting of the Association will be held at 10:00 a.m. on Saturday, 26 June 2021 at the Rooftop Classroom of the School Hall, Wah Yan College, Hong Kong for the following
purposes:-
1. To confirm the minutes of the 51st Annual General Meeting held on 27 June 2020;
2. To receive the Chairman's Annual Report for the year 2020-2021;
3. To adopt the Auditors' Report and Financial Statements for the year ended 31 March 2021;
4. To elect Council Members, President, Vice-Presidents, Honorary Advisors and Honorary Legal Advisors for the year 2021-2022;
5. To appoint Auditors; and
6. To transact any other business of the Association.
Note:
1. In view of the current COVID-19 situation, attendees are required to wear masks during the meeting and to observe other hygienic precautions.
2. The meeting shall be adjourned until further notice if the "Prohibition on Group Gathering" ban has not been lifted by then.
3. Copies of the relevant minutes, reports and accounts will be distributed at the meeting. They are also available for inspection upon request. Please contact the Honorary Secretary to the Council, Dr. Cheng Chi Kin Ashley, on 29902802 during office hours to make arrangement for inspection.
4. Please note that there will be no formal lunch gathering after the Annual General Meeting.
- 2021.05.31 - Cheng Chi Kin Ashley '80 (Honorary Secretary)
Fr. Stephen Chow, S.J.'s Appointment as New Bishop of Catholic Diocese of Hong Kong
WYHKPSA congratulates Rev. Fr. Stephen Chow Sau-yan, S.J. ("Father Chow"), our alma mater's School Supervisor, on his appointment by the Holy Father as the New Bishop of Catholic Diocese of Hong Kong.
We would like to express our sincere gratitude to Father Chow who has been serving Wayanites for all these years. While as Supervisor of Wah Yan College, Hong Kong, Father Chow has taught us to hold true to our calling as Wahyanites to be "men for and with others", and to embrace differences within our school community with "unity in plurality".
The Past Student Association calls on Wahyanites to join in praying for God's blessings for Father Chow, Wah Yan Colleges, the Jesuit Chinese Province and the Catholic Diocese of Hong Kong.
We look forward to having Father Chow to serve and lead the Catholic Diocese of Hong Kong with wisdom and love.
- 2021.05.19 - Armen Ho '93 (Chairman, WYHKPSA 2020-21)
Obituary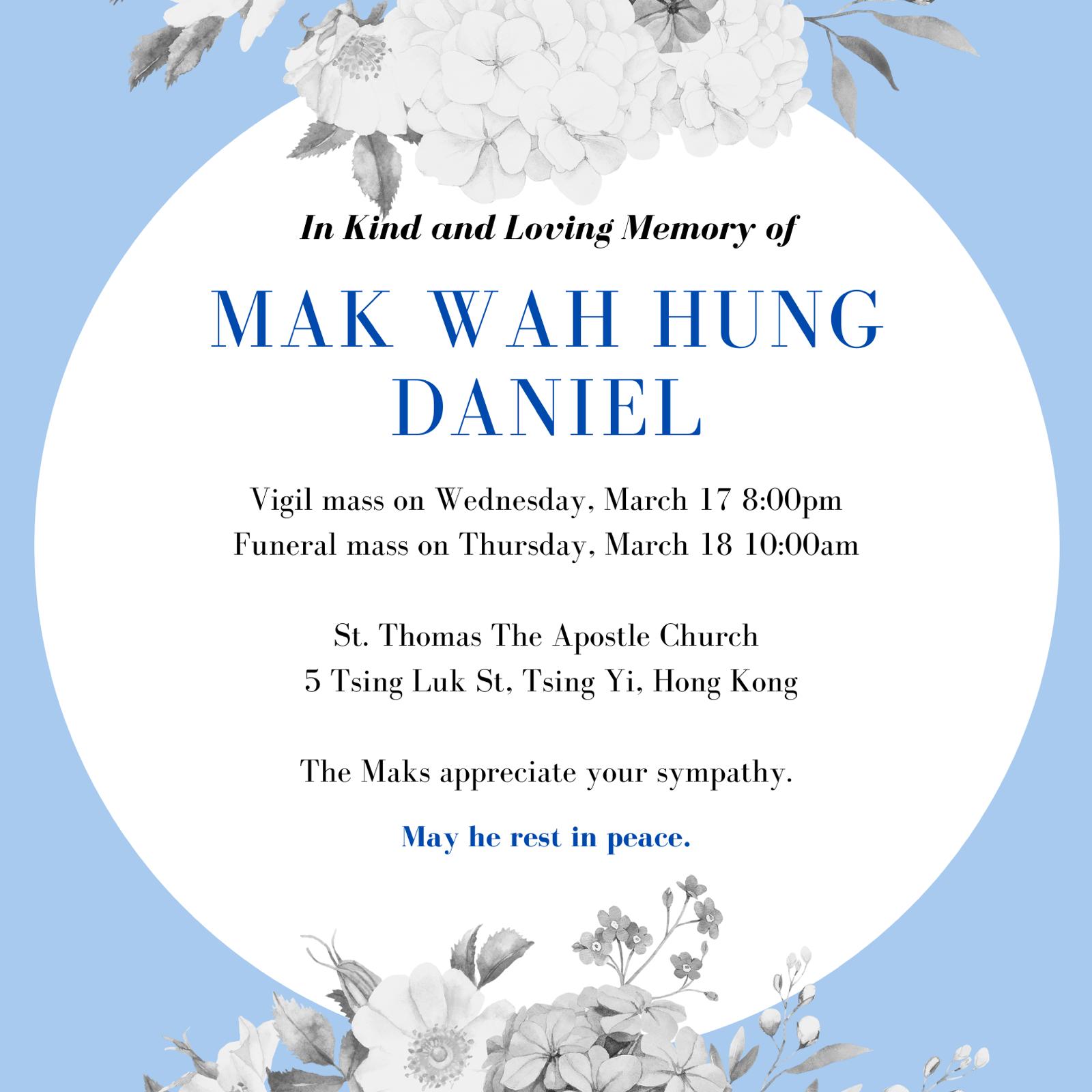 WYCHK 1971 Alumnus, founder and leader of the Wah Yan Charitable Initiative - Tin Shui Wai English Tutorial Project. A retired CEO. 
- 2021.03.13 - Armen Ho '93 (Chairman, WYHKPSA 2020-21)
Wah Yan Anniversaries Mass of Thanksgiving
各位華仁仔及友好,歡迎您們明天12/3在線上參加華仁百年校慶感恩祭!感謝上天眷顧了華仁百年,同時也懷著積極的希望再來的百年會是同樣地被天主祝福和眷顧的!
Friends, you are welcome to join our Eucharistic Celebration in Thanksgiving to God's abundant blessings throughout the century! And we pray in ardent hope for a blessed new century for the two Wah Yans! The Mass is tomorrow, March 12, Friday.
Live here:
https://www.youtube.com/watch?v=ipdzR3tl8HA
- 2021.03.03 - Webmaster