Please download the appeal letter here. (UPDATED 2020.10.20)
- 2020.07.31 - Webmaster Team
Jesuit Education Forum 2020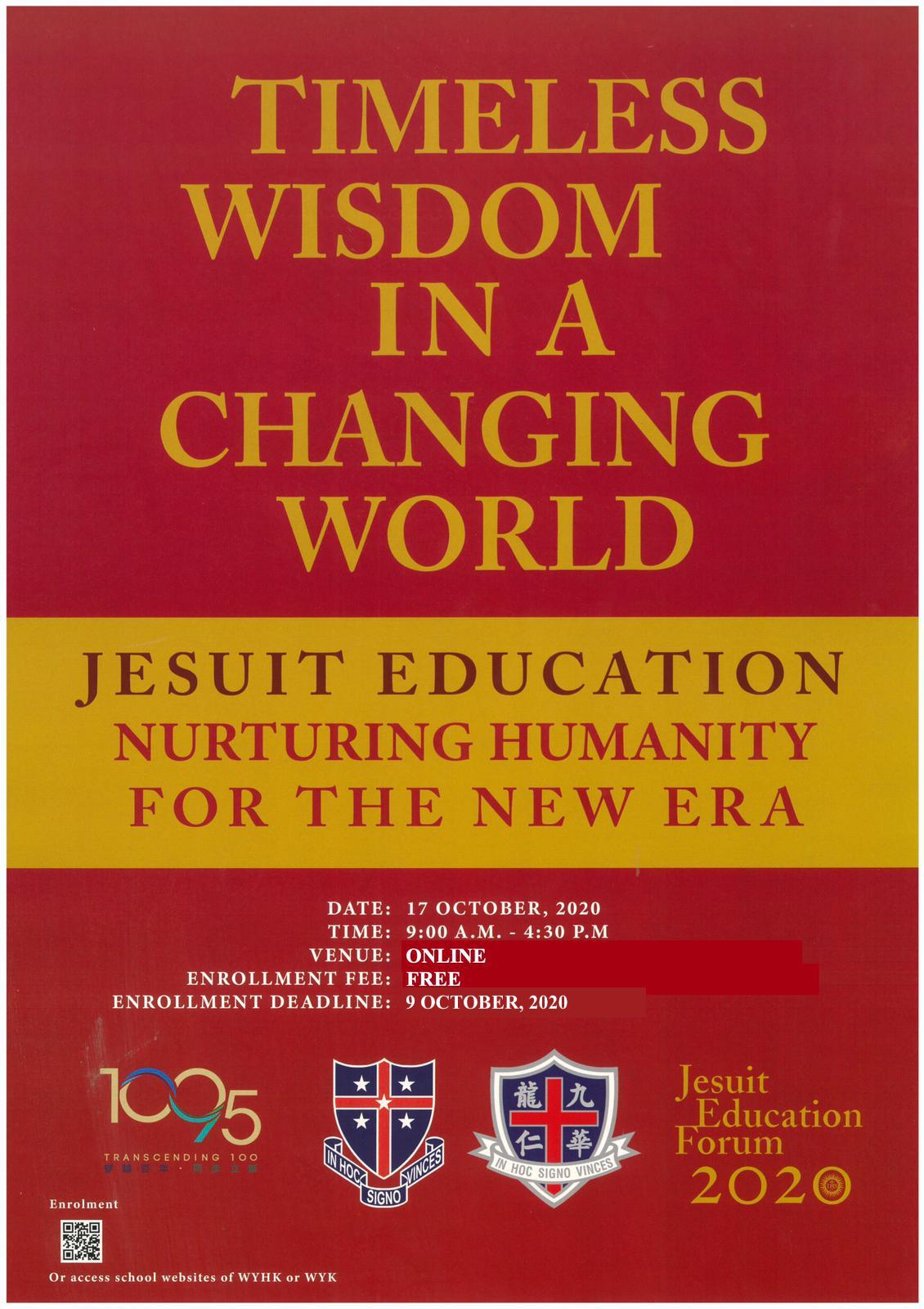 Millions around the world have counted themselves as grateful beneficiaries of Jesuit education.  Whether they are graduates of Wah Yan or Jesuit schools and universities elsewhere, one can sense, by listening to them proudly recalling their learning experiences, that there are unique attributes common to the education they have received during their formative years.
 
What are the special features of Jesuit education? Find out at Jesuit Education Forum 2020!
Conference schedule can be downloaded here.
For details, please visit https://www.wahyan.edu.hk/jef2020/
- 2020.09.24 - Webmaster Team
Postponement - Wah Yan 100th and 95th Anniversaries Mass of Thanksgiving
Dear Con-celebrant and Guest,

In view of the volatile situation of the COVID-19 pandemic and the exponential growth of confirmed cases of local infections over the past few days, the Organising Committee has come to a decision that the Anniversaries Mass of Thanksgiving is to be postponed until further notice.
Thank you for your attention.  Have a nice day.
- 2020.07.14 - Jo MIU (Executive Officer WYK)
Notice of Annual General Meeting 2020
NOTICE IS HEREBY GIVEN that the 51st Annual General Meeting of the Association will be held at 10:00 a.m. on Saturday, 27 June 2020 at the Rooftop Classroom of the School Hall, Wah Yan College, Hong Kong for the following
purposes:-
1. To confirm the minutes of the 50th Annual General Meeting held on 17 June 2019;
2. To receive the Chairman's Annual Report for the year 2019-2020;
3. To adopt the Auditors' Report and Financial Statements for the year ended 31 March 2020;
4. To elect Council Members, President, Vice-Presidents, Honorary Advisors and Honorary Legal Advisors for the year 2020-2021;
5. To appoint Auditors; and
6. To transact any other business of the Association.
Note:
1. In view of the current COVID-19 situation, attendees are required to wear masks during the meeting and to observe other hygienic precautions.
2. The meeting shall be adjourned until further notice if the "Prohibition on Group Gathering" ban has not been lifted by then.
3. Copies of the relevant minutes, reports and accounts will be distributed at the meeting. They are also available for inspection upon request. Please contact the Honorary Secretary to the Council, Dr. Cheng Chi Kin Ashley, on 29902802 during office hours to make arrangement for inspection.
4. Please note that there will be no formal lunch gathering after the Annual General Meeting.
- 2020.05.25 - Cheng Chi Kin Ashley '80 (Honorary Secretary)