ANNOUNCEMENT – 2022 ALUMNI MANAGER ELECTION & VOTERS' REGISTRATION
To all Alumni of Wah Yan College Hong Kong
Notice is hereby given that pursuant to the Education Ordinance (Cap. 279), a vacancy for Alumni Manager will arise on 1 September 2022.
As the recognized alumni association responsible to conduct election of Alumni Manager, Wah Yan College (Hong Kong) Past Students Association invites you to register as a voter for this election and to nominate a candidate for the election.
To register as a voter, you have to fill and submit an electronic registration form and your identity will be verified by the School to confirm you are an alumnus. Upon successfully registered, your name will be recorded in our voters' registrar and on the Election Day, you need to appear at the Election Venue in person to collect a ballot to cast your vote. If you have previously registered as a voter for Wah Yan College Hong Kong Alumni Manager's Election, you do not need to register again.
Please refer to the document "Procedures for Alumni Manager Election" and its 4 annexes which have clearly outlined the relevant details about the Alumni Manager's candidature, nomination, election, duties and the 2022 Election Schedule. The Alumni Manager Nomination Form per Annex 1 has to be downloaded to complete and thereafter it should be submitted to the Returning Officer by email only with a personal information write up on or before the closing of the nomination period.
Proposed schedule for a alumni Manager Election:
11/5-11/6 Registration and Nonination
24/6 Voting & Votes Counting
25/6 Announcement of the results of the Election
All personal information collected in the course of this voters' registration and Alumni Manager nomination will only be used for the purpose described and will be preserved in accordance to the Privacy Data Ordinance.
Brian Tsui
Returning Officer
Wah Yan College Hong Kong
2022 Alumni Manager's Election
Email: This email address is being protected from spambots. You need JavaScript enabled to view it.
- 2022.04.13- Brian Tsui '92 (Returning Officer)
Fr. Stephen Chow, S.J.'s Appointment as New Bishop of Catholic Diocese of Hong Kong
WYHKPSA congratulates Rev. Fr. Stephen Chow Sau-yan, S.J. ("Father Chow"), our alma mater's School Supervisor, on his appointment by the Holy Father as the New Bishop of Catholic Diocese of Hong Kong.
We would like to express our sincere gratitude to Father Chow who has been serving Wayanites for all these years. While as Supervisor of Wah Yan College, Hong Kong, Father Chow has taught us to hold true to our calling as Wahyanites to be "men for and with others", and to embrace differences within our school community with "unity in plurality".
The Past Student Association calls on Wahyanites to join in praying for God's blessings for Father Chow, Wah Yan Colleges, the Jesuit Chinese Province and the Catholic Diocese of Hong Kong.
We look forward to having Father Chow to serve and lead the Catholic Diocese of Hong Kong with wisdom and love.
- 2021.05.19 - Armen Ho '93 (Chairman, WYHKPSA 2020-21)
Wah Yan Anniversaries Mass of Thanksgiving
各位華仁仔及友好,歡迎您們明天12/3在線上參加華仁百年校慶感恩祭!感謝上天眷顧了華仁百年,同時也懷著積極的希望再來的百年會是同樣地被天主祝福和眷顧的!
Friends, you are welcome to join our Eucharistic Celebration in Thanksgiving to God's abundant blessings throughout the century! And we pray in ardent hope for a blessed new century for the two Wah Yans! The Mass is tomorrow, March 12, Friday.
Live here:
https://www.youtube.com/watch?v=ipdzR3tl8HA
- 2021.03.03 - Webmaster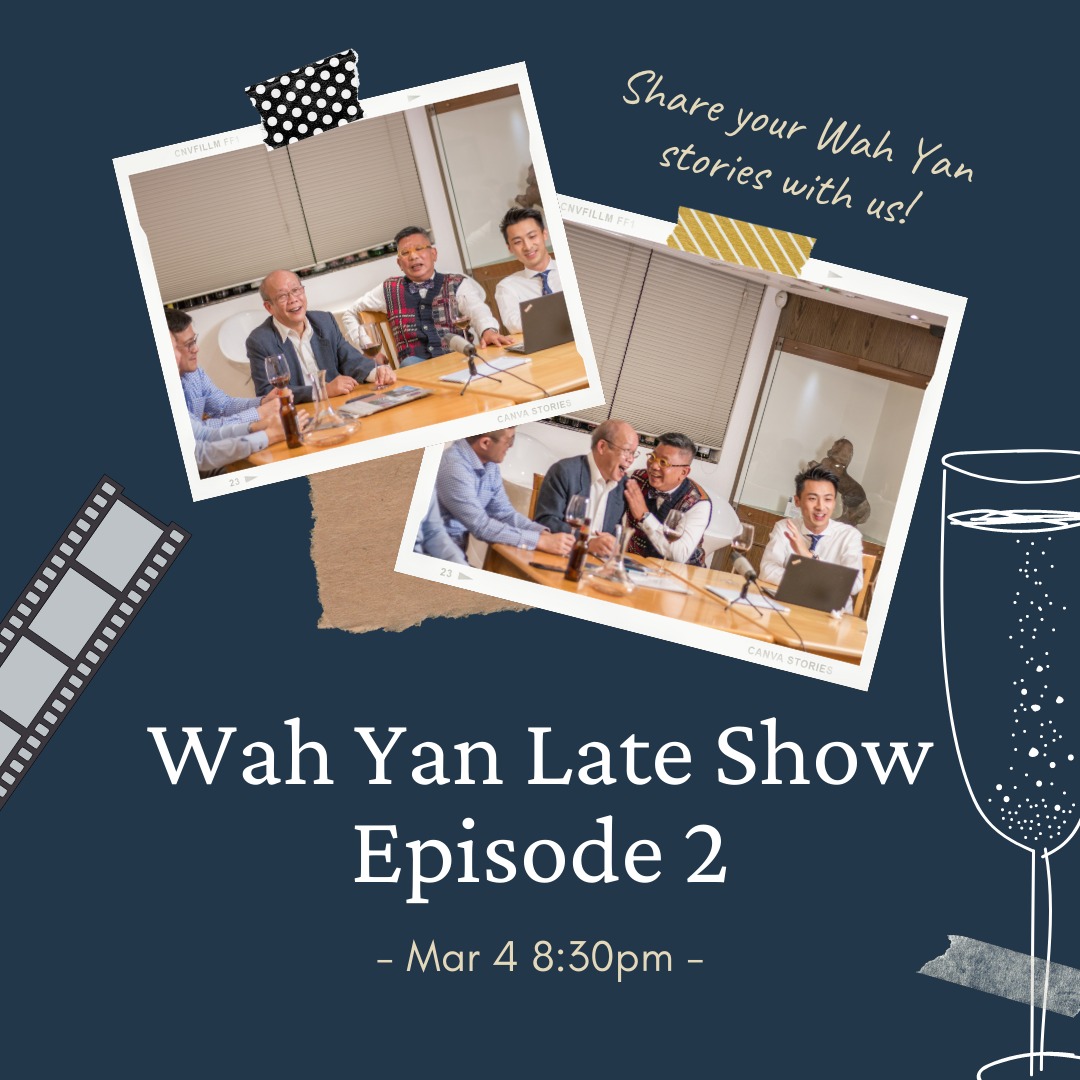 The WYPSA is glad to inform that Mr. FW Ip and Mr. WS Lo have kindly accepted our invitations to be our guests in the upcoming episode of Wah Yan Late Show 夜談華山!

It will be held online on 4th March (thurs) at 8:30pm. We look forward to seeing you!

Registration link:
https://cuhk.zoom.us/meeting/register/tJIod-6oqj0sGtY1sMgQAsxFk4bFzRJ4PIix
- 2021.03.03 - Webmaster Team