ANNOUNCEMENT – 2020 ALUMNI MANAGER ELECTION & VOTERS' REGISTRATION
To all Alumni of Wah Yan College Hong Kong
Notice is hereby given that pursuant to the Education Ordinance (Cap. 279), a vacancy for Alumni Manager will arise on 1 September 2020.
As the recognized alumni association responsible to conduct election of Alumni Manager, Wah Yan College (Hong Kong) Past Students Association invites you to register as a voter for this election and to nominate a candidate for the election.
To register as a voter, you have to fill and submit an electronic registration form and your identity will be verified by the School to confirm you are an alumnus. Upon successfully registered, your name will be recorded in our voters' registrar and on the Election Day, you need to appear at the Election Venue in person to collect a ballot to cast your vote. If you have previously registered as a voter for Wah Yan College Hong Kong Alumni Manager's Election, you do not need to register again.
Please refer to the document "Procedures for Alumni Manager Election" and its 4 annexes which have clearly outlined the relevant details about the Alumni Manager's candidature, nomination, election, duties and the 2020 Election Schedule. The Alumni Manager Nomination Form per Annex 1 has to be downloaded to complete and thereafter it should be submitted to the Returning Officer by email only with a personal information write up on or before the closing of the nomination period.
The closing date of voters' registration and Alumni Manager nomination is 12 June 2020. The profile of all eligible candidates for the Election will be posted on the websites of Wah Yan College Hong Kong and Wah Yan (Hong Kong) Past Students Association from 19 June 2020. The Election will be held at the School Campus on 26 June 2020.
All personal information collected in the course of this voters' registration and Alumni Manager nomination will only be used for the purpose described and will be preserved in accordance to the Privacy Data Ordinance.
Peter Tang
Returning Officer
Wah Yan College Hong Kong
2020 Alumni Manager's Election
Email: This email address is being protected from spambots. You need JavaScript enabled to view it.
- 2020.05.13- Peter Tang '78 (Returning Officer)
Wah Yan Finance Fraternity 10th year Anniversary Drink + Dinner (13 June 2019, Thurs)
Date:  ‪June 13, 2019 (Thurs)
Venue: 14/F, Chinese Club Building 華商會所大廈, 21-22 Connaught Road Central
Timing: ‪
6:30pm Registration, Drink starts
7:30pm Photo taking
7:45pm Dinner starts
Fee:      
HK$100 (Drink only)
HK$300 (Dinner and drink)- Fee will be collected at the event reception
- Any surplus will be used to cover the cost of future WYFF event.
 
Father Chow, Principal Chung and Principal So had kindly accepted our invitation to join this event.

As a tradition of our Notable Alumni Series, this year we are honoured to have our convenor Joseph Chan (WYCHK 94') to be the speaker:

"Joseph Chan Ho Lim (WYCHK 94') is the Under Secretary for Financial Services and the Treasury of HKSAR government. He was elected as District Council Member of the Peak Constituency in 2011 and re-elected in 2015 with the highest percentage of votes in HK Island area of the District Council. Joseph started his career at Merrill Lynch Global Markets and was the Managing Director of Bear Stearns, Standard Chartered Bank and Credit Agricole before joining the government."

Please kindly RSVP by EITHER replying to This email address is being protected from spambots. You need JavaScript enabled to view it., or via our WeChat group @ Wah Yan Finance Fraternity.
We look forward to seeing you all! 

Convenors:
Joseph Chan (WYCHK 94') 
Edward Lau (WYCHK 96')  
Eddie Lau (WYCHK 97') 
Edmond Lau (WYCHK 99')
Organising Exco:
Mark Chan (WYCHK 89')
Kelvin Ng (WYCHK 06')
Raymond Wong (WYK 12')
- 2019.06.03 - Edmond Lau '99 (Convenor)
Full Match Schedule and Related Data
- 2019.06.03 - Chiwi Lai '97 (20th Wah Yan League Cup Football Tournament Organizing Committee)
20th Wah Yan League Football Tournament
Registration period for the new season of Wah Yan League Football Tournament is from 27 September to 11 October 2018.
Team captains' meeting will be held on 13 October 2018 at 1400 in Wah Yan College, Kowloon. Room number will be sent to participating teams by separate email.
For enquiries, please contact the 20th Wah Yan League Football Tournament Organizing Committee by email at This email address is being protected from spambots. You need JavaScript enabled to view it..
Highlights:
Each division will have 11 teams only and in first come first served basis.
Each participating team MUST have at least one representative in the team captains' meeting.
HK$13,000 fixed fee (including HK$11,000 enrollment fee plus the HK$2,000 refundable penalty deposit) must be deposited to the bank account of Wah Yan College Kowloon Past Students' Association Limited at HSBC with account number 808-024525-001 and the proof of payment (e.g. bank-in-slip) must be retained, scanned and emailed along with this enrolment application.
successful application refers to:

A completed soft copy (i.e. a Microsoft word file) of this enrollment form;
A scanned copy of the completed enrollment form signed by the Team Captain/Team Manager;
A scanned copy of the proof of payment (e.g. bank-in slip) mentioned above, and;
The submission of items i), ii) & iii) by emailing to the following address: 

This email address is being protected from spambots. You need JavaScript enabled to view it.

, starting from 27 September 2018 until midnight of 11 October 2018 (Hong Kong Time).
Download the required documents
- 2018.10.02 - Chiwi Lai '97 (20th Wah Yan League Cup Football Tournament Organizing Committee)
Real Estate Fraternity First Gathering!
On behalf of the Wah Yan Real Estate Fraternity , we would like to invite you all to attend our first gathering with details as follow:
Date: ‪July 10 2019 (Wed)‬
Venue: 1/F Bar & Bowling Area, Pacific Club, Harbour City
Time:
6:00‬ pm Registration, Drink session starts
7:00 pm Photo session
7:20 pm Welcome speech by Mr Stephen Ng (WYK69)
7:45pm‬ Buffet Dinner starts
Fee:
HK$120 (Drink only)
HK$480 (Dinner and drink)
- Fee will be collected at the event reception
- - Any surplus will be used to further event for the fraternity group / school donation.
Confirmed guest
Mr. Stephen Ng 吳天海先生 (WYK 69) is confirmed to attend the event and we are honoured to invite him as a guest speaker to kick off our fraternity group. Mr. Ng is the Chairman of Wharf Group (004) since 2015 and he is also the founding member of Wah Yan One Family Foundation
Prof Francis Lau, BBS 劉紹鈞教授 (WYK55) is also confirmed to attend the event. Prof Lau is the founder of RHL International which is the earliest Chinese established surveying firm and he was made an Honorary University Fellow of HKU.
Mr. Roger Poon (WYK 74) is Associate Director and Head of Leasing Department of Sino Land (083). Prior to joining Sino Group, Mr. Poon was the head of property investment and management of MTRC (066) and Executive Director, Head of Real Estate Strategy, Asia from Goldman Sachs
Both WY Principals will join the event.
Please kindly RSVP by replying to This email address is being protected from spambots. You need JavaScript enabled to view it. (Sheldon Ip, WYK 96), or contacting us -- Justin Kwok (WYCHK 98) or Michael Ho (WYCHK 06). We look forward to seeing you all and your friends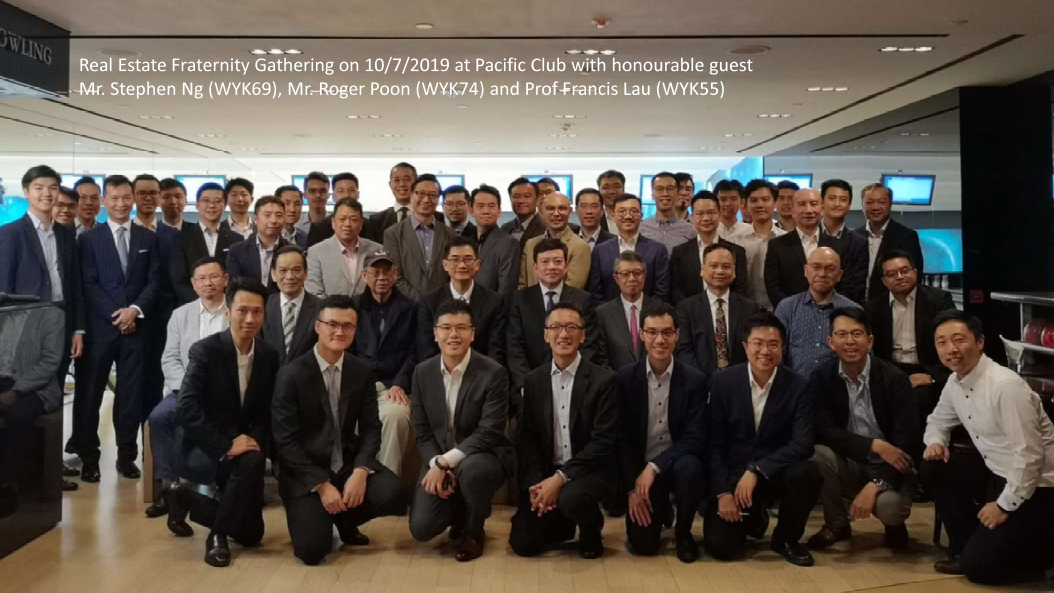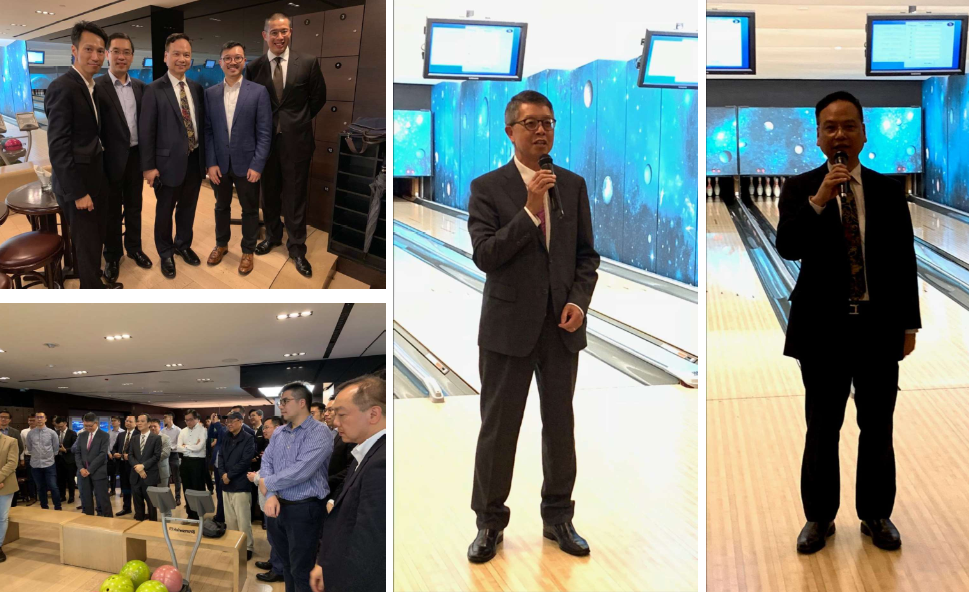 (UPDATED 2020.07.31)
- 2019.07.04 - Michael Ho '06 (Real Estate Fraternity)